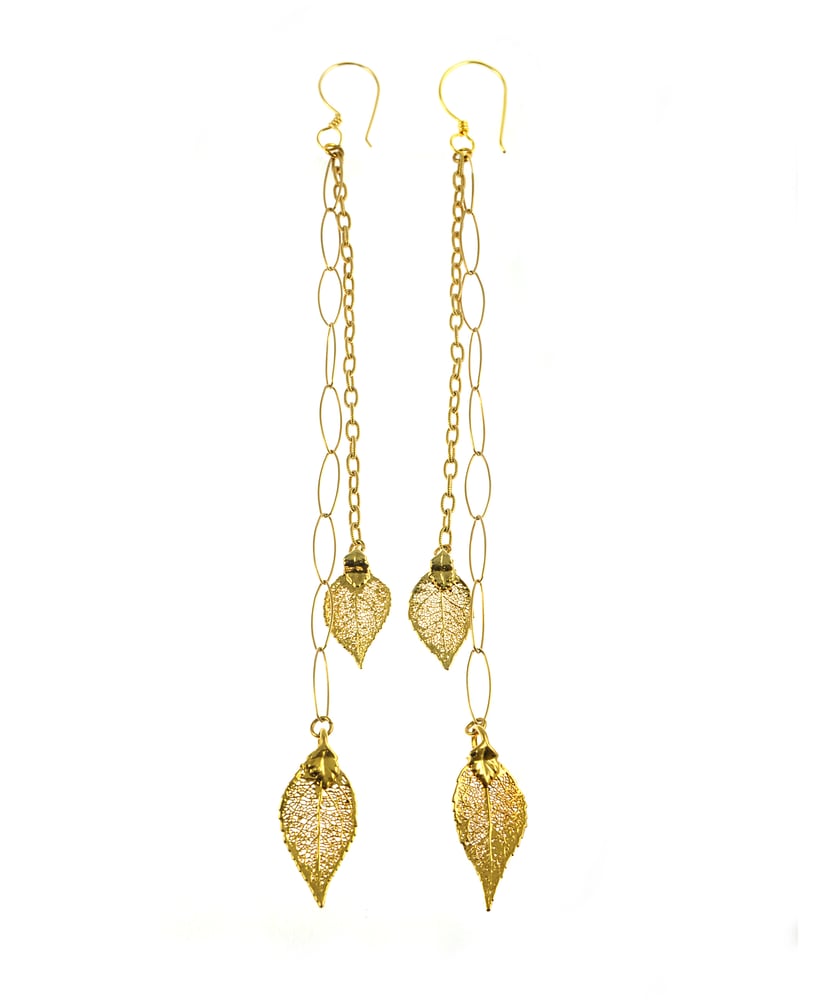 Real Evergreen Earrings Preserved in 24k Gold with Gold Chain
$

180.00
---
---
These handmade statement making earrings are lovingly crafted with 14k gold chain and paired with real evergreen leaves hand-dipped and preserved in 24k gold. Every pair is a one of a kind with slight variations in chain style, making yours as unique and special as you are :)
Measures approx 10" L
Every leaf serves as a reminder of our own unique expression while also evoking the ancient wisdom and timeless beauty of a flourishing tree.

Significance of the Evergreen Tree
Throughout the centuries the evergreen has been a potent cultural symbol of rebirth and renewal. Contemporary Christmas trees are a vestige of the pagan practice during the winter solstice of bringing greenery into the home to symbolize life in the dead of winter. The literal meaning of an evergreen is to remain unwithered through the winter, or retaining unwithered leaves until the leaves of the next year are expanded. The evergreen teaches us that each moment is an opportunity for a fresh start. With every breath we literally have the opportunity to be reborn. May each time you wear your evergreen piece be a reminder that you are forever renewing, and that even in the dark of your personal winter, there is an eternal source of life and strength within you that forever flourishes.
Care Instructions: Your real leaf is a delicate, natural material. To ensure long-lasting enjoyment of your one-of-a-kind design, take care while wearing it not to apply direct pressure to the leaf, and store it in a jewelry box or pouch away from direct sunlight.
All Urban Blossom Jewelry is handmade and shipped first class, insured with tracking to make sure your stunning wearable art gets to you in perfect condition!
To custom order in silver email info@urbanblossomjewerly.com