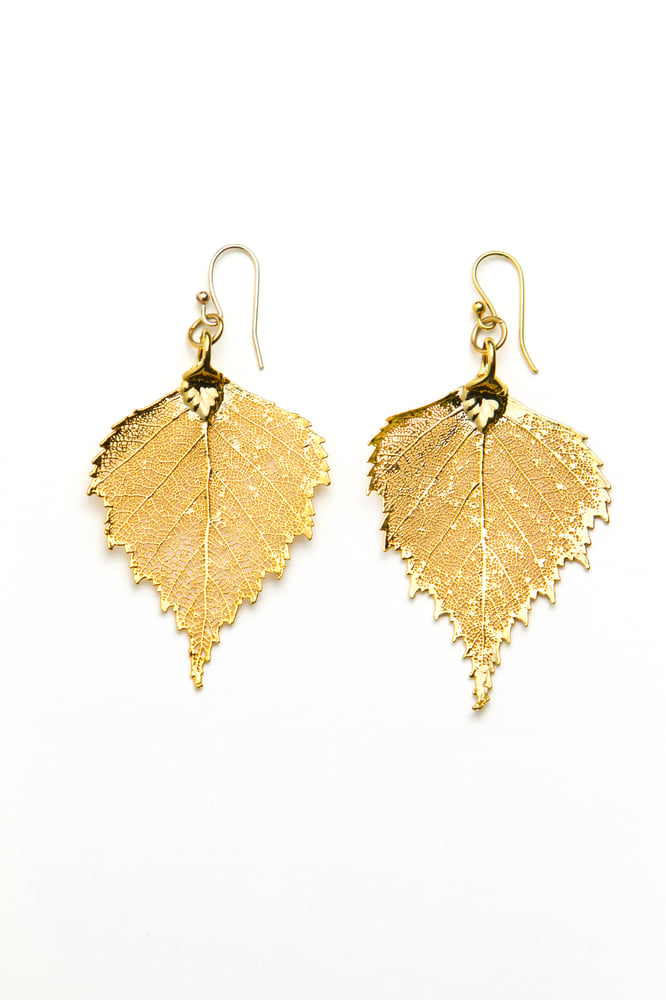 Real Birch Leaf Earrings Preserved in Precious Metals
$

124.00
---
---
Each Real Birch Leaf is carefully selected and then hand dipped and preserved in 24k Gold or Sterling Silver creating a totally unique one-of-a-kind design. Leaves measure approx. 2"-2.5" L

Significance of the Birch Tree
The Birch tree is an ancient symbol for purification and renewal. Birch wood was used in brooms by many cultures to sweep away the old year and welcome in the one, and as maypoles in early summer festivals to celebrate fertility and optimism. The birch is a transformational symbol that can give us the courage to let go of what is no longer serving us and embrace new beginnings. With its beautifully contrasting white bark and green summer leaves or yellow autumn leaves the birch also helps us embrace the contrasting elements with us. Associated with beauty and tolerance, the Birch's vibration can heighten tolerance of oneself and others. May each time you wear your Birch Earrings be a reminder of the new and exciting miracles awaiting you in every moment, and may it bless you with all of the beauty, strength and wisdom of a flourishing birch forest.
Care Instructions: Your real leaf is a delicate, natural material. To ensure long-lasting enjoyment of your one-of-a-kind design, take care while wearing it not to apply direct pressure to the leaf, and store it in a jewelry box or pouch away from direct sunlight.
All Urban Blossom Jewelry is handmade and shipped first class, insured with tracking to make sure your stunning wearable art gets to you in perfect condition!